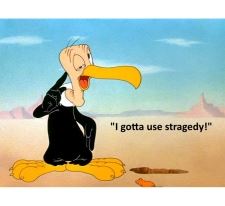 Seriously here, I'm not talking about the amount of time you spend, though that is important. I'm talking about how you spend your practice time and what songs you're working on in it. What's more important than just time is that every day you do practice, you are moving a section, even just one measure, from a place of clunky stiffness to the point where the listener can forget about the details and difficulties of the piece and just enjoy it a little. It doesn't have to be perfect, it just has to flow some. I define 'flow' as the ability of the listener to correctly predict where the next beat and measure will be. If a listener can't do that, they can't relax into the song (neither can you). That's why muscle memory (what I'm doing feels natural to do) and the macro-rhythm (the next beat happens where it should) are so important - as I've said here many times, MORE important than playing or singing every pitch correctly. And also you need to usually work on songs that you can learn in 1 to 3 months.
That's why lots of us know someone who's a very sloppy player or does really simple stuff, yet people around them think they're great - those musicians have learned the secret of prioritizing the flow, drama, and emotion of the music over the pitch correctness of the music. Your song is not a math test, or if it is, it's a two part test. Like someone taking the SAT, we need a strategy for acing this bear of a test (this song). Part one is all the technical, pitch accuracy issues; part 2 is not pausing or breaking the flow of the song. Your strategy is: make sure you get part 2 down first AND THEN you can obsess over part one.
80% of my students play plenty well enough to really like how they sound if, and only if, they would let a few pitch mistakes in so they could keep the time going, rather than reversing that order and stopping 23 times in 8 measures before they'd play/sing a single wrong chord or note. This is the strategy for people who've only been playing 6 months as well as experienced musicians. Be one of those who focuses on part 2 of the test and you'll sound 5 times better instantly AND as you sound better you'll relax enough to be able to master part 1 (pitches/chords) also.