Dallas Mandolin Lessons
Resembling a miniature guitar with a rounder body, the mandolin is a direct descendant of the medieval lute. In keeping with its medieval roots, classical mandolin playing echoes the royal court and medieval ballroom music of centuries ago. Its music is bright and mellow, and its light-footed sound matches the light but rapid finger movements of the mandolin player. In addition to its classical history, the mandolin has made an impact on the sound and character of Irish and Celtic folk music.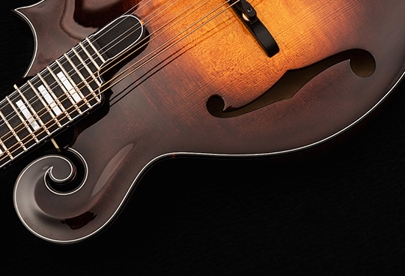 The mandolin's doubled-strings have a distinctive "twang" that come from the steel, which give the mandolin its volume. Despite its similarity of design and function to the guitar, the mandolin has a unique timbre that sets it apart from the more traditional string-sounds of its popular cousin. Its unique sound has made it a bit of a niche instrument, used primarily in classical pieces or very specialized folk and pop music, but its appeal is widely appreciated by all kinds of musicians.
The mandolin's twang and accent has made it a mainstay in bluegrass music. The light-footed play of classical mandolin reaches incredible levels in bluegrass and folk mandolin, where the player's fingers dance across the small frets and doubled-strings as though the player him/herself were on fast-forward in real life. Bluegrass mandolin highlights the sheer joy and rhythm that the mandolin is capable of, and it also reveals the skill and proficiency possessed by mandolin players. The fret sizes call for someone with nimble or small hands, but the doubled strings require wide or strong fingertips. Precise and rapid finger technique is the primary skill developed by mandolin players, which easily translates into flamenco or classical guitar, or perhaps into the precise movement required by woodwind players.
Get Started with Our Dallas Music Lessons
If you want to pick up this unique and immensely fun instrument, consider learning with an expert instructor at Promethean Studios. Our teaching methods combine solid technique and effective practice with fundamental music theory, which allows you to play music right away and understand the music you're playing! Our private in-studio and online music lessons will give you the ability to play mandolin in folk or classical traditions, while simultaneously giving you the tools to apply the mandolin to whatever style of music you love. After learning with us, you will be equipped to execute the distinctive sound of this instrument with your own style and flair, giving you a matchless flexibility with an instrument that has yet to be explored by the world of music at large.