Music Evaluations & Coaching in the Dallas Area
Online Music Lesson Sessions
Promethean Studios is committed to your musical success, so in addition to regular lessons and bands, we offer specialized evaluation & coaching sessions to discover major areas for improvement for individual musicians or groups, beginners through professionals. You can also take advantage of evaluations to get ready for an audition, performance, gig or recording or to fine-tune your skills. Evaluations and coaching provide targeted, short-mid-and-long term direction to musicians and bands on how to direct their practicing and overall efforts at becoming excellent, so they can learn much more quickly and be better musicians and performers. And for individuals and groups with immediate performance needs (auditions, performances, etc) we will give you direct tips, tools, and ideas for your best performance. There are two types of these sessions available: evaluations & coaching.
Musical Evaluations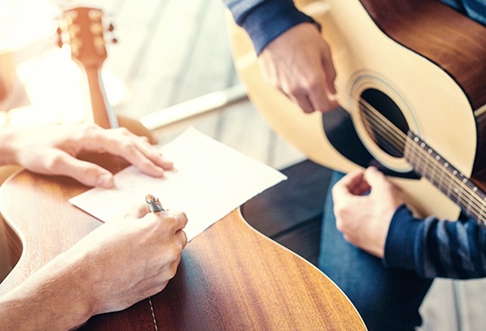 Evaluations are one-at-a-time sessions, either live or from video, in which Mark Black (with well over 2500 current and former students) will listen to you perform, singing or playing on any of the instruments we teach, or listen to songs you have written, or listen to your group's performance. These songs and performances don't have to be good because we're evaluating your music and seeing what needs work. No pressure - bring what you've got and we'll fix it. And always remember your musical goals and success are the target for our session.
If you're auditioning or need performance critique, we'll be directly focused on making that performance even more excellent and awesome. We want to help you perfect your music and style in that session, not ours. So we'll ask about what you want to achieve, where you're focused on your music, how much you practice, learn about your personality (which dramatically affects how everyone learns). All to craft this specific session to best get you where you want to be.
In a live evaluation, online or in-studio, about 1/3 of the time is spent listening to your performance (or the song(s) you wrote), about 1/3 is spent discussing the areas most vital for immediate and long-term improvement for you, and 1/3 is spent setting up techniques, drills, skills, and exercises to get you on the path to noticeable progress. These will probably also include PDF files, videos, and audio files to help you. Evaluations are open to individuals and groups. You can come back for evaluations as often as you like and you can always do more than one session in a week or month.
If you can't do an live evaluation, you can also send in a video and receive the same input as our live evaluations by return video. The video you send should be no more than half the length of the session you're paying for and you will receive an equivalent-length return video. For example, if you pay for a 30 minute evaluation, send us a 10 to 15 minute video, and you'll receive a Dropbox link to a 10 to 15 minute video with an evaluation, direction, exercises, etc., just for you. 15 minutes to listen to you and 15 minutes to make you your personal video, 15 + 15 = 30.
Musical Coaching
Coaching is simply our name for 4 consecutive evaluation sessions, at least once per week. A little more consistent time commitment and thus a little price discount. If you don't want to take regular lessons, but you need more input than a couple of evaluations, then signup for Coaching sessions. Same directed, focused concentration, the same increase in your skills and progress, but over a longer period of time. And you can extend these sessions as you like. Open to individuals and groups, beginners through professionals. Coaching sessions can be no less frequently than once a week.
Evaluations are $55 per 30-minute session and $100 per 60-minute session.
Coaching is $205 for 4 consecutive 30-minute sessions and $355 for 4 consecutive 60-minute sessions.