Meet your instructor​
Promethean Studios was founded in 1991 by Mark Black with one goal: to turn learners into musicians, people who could actually play and sing the music they loved without being worried about messing up. Using practical methods that maximize their enjoyment without sacrificing quality of education seemed to be the best way to do that. We believe that having a personable instructor makes lessons fun too and that helps a lot! And keeping theory and technique components in every lesson also creates an atmosphere of excellence and accomplishment. Our teaching methods allow people to learn effectively, so they learn as quickly as possible, without sacrificing quality. With our location in Plano alongside globally-accessible online lessons, there's never been an easier time to become a musician at Promethean Studios.
What Makes Our Program Awesome?
Mark Black has taught around three thousand private students and has been teaching in Dallas since 1994. His methods have helped many students become successful in their music while having a blast.
Music education at Promethean Studios is centered on the following goals:
Use student goals to direct learning;
Use music theory as a way of understanding what the student is already playing or singing;
Develop instrumental and vocal technique to build necessary physical skills;
Use fun and engaging education to inspire learning, not make it a chore;
Employ practical techniques that produce the best results in the shortest time;
Customize lessons to fit the unique needs and personality of each student; and
Work toward confidence and comfort in performance.
If you want to become an musician while experiencing personal fulfillment and having a great time, call Promethean Studios today at (888) 862-7210 to schedule a consultation!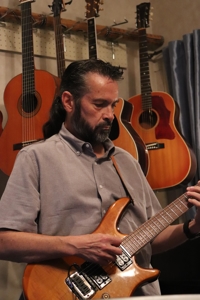 Mark attended Loyola University in New Orleans as a double major in oboe performance and music composition/theory. He was a member of the Loyola Orchestra, Loyola Jazz Band, Loyola Chorale, and the Loyola Band, as well as several woodwind quintets. He traveled for a year with the contemporary Christian music group Majesty, has led worship for 39 years, and spent 14 years as a music director of various churches. Mark studied privately with Fred Korman, Dr. Pat McCarty, Helen Erb, Dr. William Horne, Michael Carubba, Dr. Thomas West, and others. He has performed in Christian, rock, classical, and jazz ensembles and as a soloist in cities such as Atlanta, Dallas, Houston, Memphis, Miami, Minneapolis, New Orleans, New York City, St. Louis, and Washington D.C.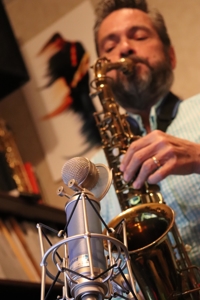 Mark's musical skills include professional performance in guitar, voice, sax, piano, keyboards, bass, flute, ukulele, mandolin, oboe, and other instruments, as well as professional composition, arranging, and orchestration. He has taught in seminars, conferences, and led bands throughout the southeast and southwest. He taught applied instruments, voice, theory, conducting, and song writing for 6 years at Christ for the Nations Institute, where he enjoyed teaching diverse students from dozens of countries such as Bhutan, Iceland, Japan, Namibia, Papua New Guinea, and Switzerland. While there, Mark was also the instrumental director and led the orchestra. With his extensive career and knowledge, Mark can improve the musical skills of just about anyone, including you. You bring the passion, and he'll bring the lessons.
Call today to find out how he can help you on your musical journey!