Learn to Play the Ukulele
Despite its appearance resembling a miniature guitar, the ukulele is a wonderful, unique instrument in its own right. It originated in Hawaii, where its soulful but sunny sound became associated with the beautiful island scenery around it. It gained a great deal of popularity during the 20th century all over the world, particularly in the mainland U.S. and Japan. Today, the ukulele can be heard in a great deal of modern folk and indie music—most notably in Jason Mraz's beach-centric style.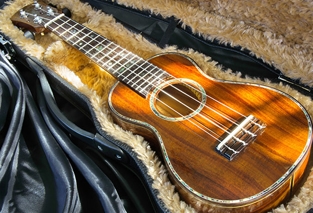 Ukuleles have a proud heritage, both in Hawaii and in the world at large. It was often featured in performances at royal gatherings during the reign of the Hawaiian monarchy, and its small size and relatively inexpensive cost allowed it to spread the world over through the musicians who fell in love with the lightness and sweetness of the music it produced. George Harrison, one of the Beatles, was a vocal fan of the ukulele, once writing that "it is one instrument you can't play and not laugh!"
Why Learn to Play the Ukulele?
It's Portable - Ukuleles traditionally come in four sizes: soprano, concert, tenor, and baritone. Soprano, also known as the "standard" size ukulele, is the smallest of these four at 21 inches length. That's about half the size of a standard acoustic guitar! In addition, ukuleles are often made of a lighter wood material than other stringed, guitar-like instruments. Picking up a ukulele for impromptu practice is comparable in effort to picking up a laptop. When it comes to ease and portability, you'd be hard-pressed to find something easier to carry around than a standard-size ukulele.
It's Inexpensive - Amazingly, a solid-quality ukulele will only cost you $50-$150. At that price, ukuleles are both economically and musically accessible. There are many high-quality ukuleles available for less than the price of the average acoustic guitar, which means that there is very little reason not to try learning ukulele if that is something you've always wanted to try.
It's Capable of Making Beautiful Music - The ukulele's sound is associated with understated, acoustic performance, often working in tandem with equally understated vocals. Despite its size, however, the music that is often created with a ukulele is deep in its beauty and possesses a great deal of heart. One song that perfectly demonstrates the humble, understated power of the ukulele is Israel Kamakawiwo'ole's cover of "Somewhere Over the Rainbow," which helped bring the ukulele into contemporary prominence in the 1990s. Though it is a small, four-stringed instrument, the ukulele allows the player an incredible depth of expression.